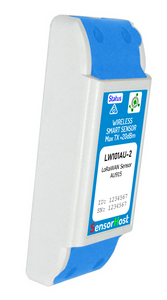 Introduction
The LW101xx-n sensor measures temperature and sends temperature data at a predefined interval by LoRa® long-range and low-power wireless connectivity to your account on "The Things Network". It is LoRaWANTM compliant (uplink only/ABP).
Configuration
A simple one time configuration is done using a Micro-USB cable connected to your PC running a serial terminal application. You simply set yourDevice address, Network secret key, and Application secret key from your TTN account.
Connectivity
The LW101xx-n will automatically connect to the nearest TTN LoRaWANTM public gateway that is in range. If there are no TTN gateways in your area, you can purchase a gateway and provide connectivity for all your sensors.
Sensor Probe
The included waterproof temperature probe has a 2 meter cable length, suitable for use in wet locations and can be submerged up to 1m. Nominal temperature measurement range is from –40 to +85°C with a typical accuracy of ±0.5°C. If you require higher accuracy we can supply a calibrated version of the temperature sensor probe traceable to NATA standards with typical accuracy of ±0.1°C for an additional fee.