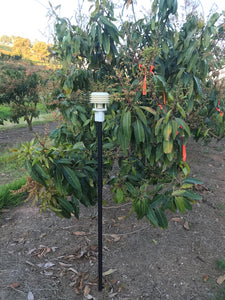 The fruit maps temperature sensor is a battery powered high accuracy temperature sensor. Data is sent at intervals of 15 minutes (typical) and battery life is 2 years.
Items included
Electronic sensor circuit board with non-replaceable battery and high accuracy temperature sensor
5 plate round sensor radiation shield
Small antenna
Other items required & optional
WiFi sensor gateway (1 required per site)
Sensor signal repeater (optional)
5m aerial extension cable & 115mm aerial (optional)
Ongoing charges
There is an ongoing monitoring fee charged per active sensor. Currently the fee is 10cents per sensor per day (about $3 per month). This fee is only charged if the sensor is operating.
You can pre-purchase 'sensor/sms credit' from this website or if you wish to be sent monthly invoices please contact us.
Please note
In the photo, the star-picket and mounting bracket are NOT included. CQU are currently providing the mounting bracket and we will obtain this and pass it on at cost.
Visit the FruitMaps website (https://fruitmaps.info)
Depending on location and distance to the gateway there are aerial options available. With direct line-of-sight between sensor and gateway (no obstacles - no trees - no walls - no hills etc) range up to several kilometres is possible.
Testimonial

Marcello (from CQU): I used these sensors extensively in my research work. They use the Silabs SI7051 temperature sensor, a more precise sensor than you will find in most loggers.  I ran the units for over 2 years on a single set of batteries, logging at 15 min intervals. Range depends on level of obstructions (trees, hills), but several kilometers is typical.  The aerial cable extension for the sensor aerial enables it to be mounted above the tree canopy. We use a PVC pipe over a star picket as a mast.